Deep River Fire Department Carries Epi-Pen
In an effort to be prepared for an anaphylactic shock event in our community for the public or members of the fire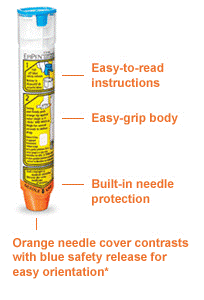 department the Deep River Fire Department (DRFD) has started carrying an EpiPen® Auto-Injector in our medical emergency response kit.
Specifically, DRFD carries an adult (0.3 mg of epinephrine) and a junior (0.15 mg of epinephrine) version of the lifesaving unit.
The EpiPen® Auto-Injector is a disposable, pre-filled automatic injection device that administers epinephrine in the event of a severe allergic reaction. EpiPen® contains epinephrine, a medication that can help decrease the body's allergic reaction by:
Relaxing the muscles in your airways to make breathing easier
Helping to reverse the rapid and dangerous decrease in blood pressure
Relaxing the muscles in the stomach, intestines and bladder
After using EpiPen®, the patient must seek immediate medical attention or go to the emergency room. For the next 48 hours, they must stay close to a healthcare facility or be able to call 911.
"Blue to the sky - Orange to the thigh "