Council
O Canada


National Anthem courtesy of the Government of Canada.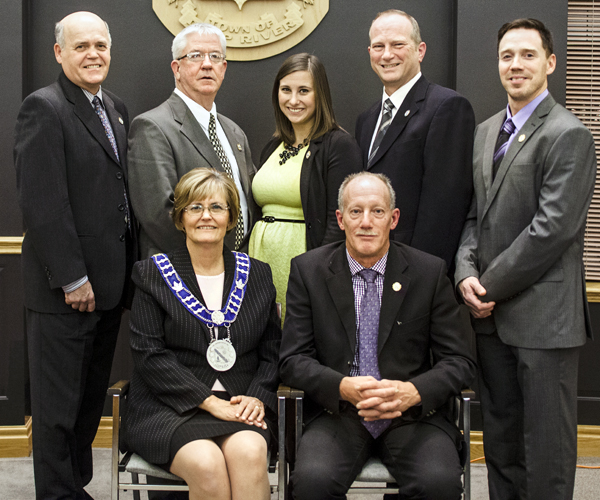 Council Members

Mayor Joan Lougheed
Joan Lougheed is the mother of two adult children. As a Registered Nurse & entrepreneur, during her nursing career she established Educare, a company providing education & skills upgrades for health professionals.
In 1991 she made the decision to run for elected office in the municipality of Burlington serving 15 consecutive years as a municipal councillor & represented the city at the Federation of Canadian Municipalities for 9 of those years. She was an FCM Honor Roll Recipient for work on Municipal Infrastructure Best Practices, Women's Issues and Environmental / Energy Initiatives She was a leader in projects such as community policing and the redevelopment of the downtown & waterfront.
Seven years ago, Joan moved back to the Ottawa Valley, to Barry's Bay where her parents were born & raised. She continued working with the Alcohol & Gaming Commission of Ontario as an adjudicator and board member.
She and Alan Carmichael made the decision to continue their lives together in Deep River, where after settling here for a few years, she was successful in the 2014 Election and now resides as Mayor of the Town of Deep River.
Reeve Glenn Doncaster
Reeve Glenn Doncaster was born in North Bay, Ontario and raised in Deep River where he attended Cockcroft and Keys Public Schools as well as McKenzie High School. Glenn graduated OAC at Brantford Collegiate High School while trying to progress in a career of hockey playing for the Brantford Alexanders Junior "A" and Junior "B" hockey teams. He then completed a Diploma in Computer Technology from the Control Data Institute and embarked on a career with Xerox Canada Ltd. While with Xerox, Glenn held a number of positions including Senior Customer Service Professional, Team Leader and Product Training Specialist. These positions were located in Ottawa, Toronto and various cities in the USA. In 1995, Glenn left his employ with Xerox Canada Ltd. to pursue a number of private business ventures. Since this time he has owned and started a number of businesses in Renfrew County, including Valley Electronics, Advanced Electronic Innovations, Vertex Consulting and Digital Copy Xpress.
In 2003, Glenn married his high school sweetheart Susan and raised their daughter Megan in Deep River. At the point in time when Megan was graduating from Wilfrid Laurier University, Susan and Glenn adopted two girls from the Toronto area, Autumn (2.5 yrs) and her sister Melina at birth. They are currently living and raising their girls in Deep River where they also operate their businesses together. The Doncaster family enjoys spending their summers on the beautiful Ottawa River boating with friends and extended family.
Glenn has 13 years of experience on Deep River Council, 6 years as a Councillor and 7 years as Deputy Mayor. He is also currently the Director of a mission group "Floors for Families" that travels to the Yamasa area of the Dominican Republic annually to install cement floors in homes of families in need.
Councillor Megan Aikens
Megan Aikens was born and raised in Deep River where she attended St. Mary's Catholic School and Mackenzie High School. In 2007, Megan completed a Bachelor of Arts in Political Science followed in 2012 by a Master of Arts in Political Science, both from Wilfrid Laurier University. The focus of her graduate research was on intergovernmental cooperation between municipal and Aboriginal governments. Over the past ten years, Megan has accumulated diverse work experience across Canada including positions with the Laurier Institute of Public Opinion and Policy, the Vancouver Organizing Committee for the 2010 Olympic and Paralympic Winter Games, Wilfrid Laurier University and the Ontario Ministry of Municipal Affairs and Housing.
Megan and her husband Patrick were absolutely thrilled when Megan was presented with a career opportunity which brought them back to their shared hometown of Deep River in the summer of 2012. Since her return, Megan has held the position of Strategic Communications Coordinator with the Algonquins of Ontario working in support of the efforts towards the realization of a negotiated settlement of the Algonquin land claim with the Governments of Canada and Ontario.
Megan and Patrick are looking forward to welcoming their first child in the spring of 2015. This is Megan's first term of Council.
Councillor Ron Desrochers
Councillor Ron Desrochers was born in Toronto. Ron and his wife Deborah were married in 1983 and moved to Deep River in 1990 where they raised their three daughters: Christine, Jeannette (married to Matt Porringa) and Michelle. Ron is the proud grandfather of three, Ross, Brooke, and baby expected May 2015. Ron is a Chartered Professional Accountant, Certified General Accountant and in 2011 Ron retired from AECL after working there 20+ years in Procurement and Project Management.
Ron has always shown his commitment to Deep River through volunteerism. He is the current treasurer for The Deep River Science Academy (18 yrs), OLGC Knights of Columbus (17 yrs), Woodworking Club (2 yrs) and is on the board of directors for the Deep River and District Community Foundation. Ron has also completed numerous financial reviews for several non-for-profit organizations in Deep River over the past 20 years. He coached soccer for 10 years.
Ron is an active member of Our Lady of Good Counsel Parish, Deep River Oldtimers Hockey Club and the Deep River Curling and Squash Club.
Ron is serving his second term on town council.
Councillor Jason McAuley
Biography coming soon!
Councillor Robert McLaren
Biography coming soon!
Councillor Terry Myers
Councillor Terry Myers was born and raised in Deep River and graduated Mackenzie High School in 1979. He returned with his young family in 1986 and since 1998 has been editor-in-chief of the local newspaper, the North Renfrew Times. Over this time, he has also been involved in the community with the Deep River Scouts, St. Barnabas Anglican Church, the Deep River Players, the Deep River Musical Society and the Deep River Oldtimers Hockey Club. He is serving his second term on town council and is now the proud grandfather of two, Evelyn and Vivienne.